Alcohol Free Tequila
We offer a limited, but exceptional range of non alcoholic tequilas from lauded brands such as Lyre's, ISH, and Monday Distillery.
With our alcohol free range, expect distinctive agave notes with nuanced hits of earthy and spice, staying true to their traditional counterpart.
Enjoy it straight, over ice, or as the highlight in popular cocktails such as Margaritas or a Tequila Sunrise - all without the alcohol.
Back Soon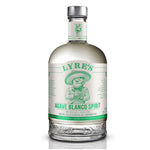 Back Soon